About Beartech Alloys - An ISO Certified Company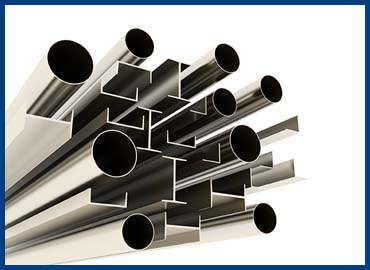 A Metal Distributor Exceeding Your Expectations
Beartech Alloys is a family owned and operated metal distributor and metal service center that was founded in 1997. We specialize in specialty alloys such as stainless steel, nickel, bronze and copper. We stock these alloys in bar, tube, pipe, angle, flats, shapes, plate and sheet. We work with several mills, foundries and other distributors to assure you the best price and delivery possible.
President Rick Fobear started in the metal industry at a very early age, sweeping chips off the floor and cleaning machines at his parents' tool and die shop. It was a humble beginning, and by the time he reached high school, Rick knew what he wanted to do for a living – ANYTHING but work in the metal industry. He'd had his fill of sweeping and cleaning.
But while Rick was attending college, he came across a job opportunity as a sales rep for a company in the metal industry. It was a field he knew well, so he tried it. There was no sweeping or cleaning required. That was 1995, and he's been working in the industry ever since.
Growth and Change
In 1997, Rick and Kathy married and decided to start Beartech Alloys as a rep and metal broker company. In 2000, they formed Beartech Alloys, LLC, and became a stocking metal distributor. Beartech Alloys has expanded every year since, with growth ranging from 18 percent to 112 percent per year.
A varied customer based from such industries as power generation, automotive, aerospace, food preparation and commercial applications has made Beartech Alloys the metal service center that it is today.
Beartech Alloys bases its business model on the two most common needs of any OEM, machine shop or fabrication shop; availability of products and competitive prices. We truly partner with and work hard for our customers. We understand that in a competitive world, every dollar counts and delivery is most of the time more important. If we don't have the material in stock, we will search for it at over 45 manufacturers and warehouses all over the U.S. who we network with. When we find what you need, we will offer it at a competitive price and a fast delivery.
As a full metal service center, we also offer "value added" processing such as grinding, rough machining, finish machining, trepanning, saw cutting, heat treating, laser and water jet cutting and more. We also do rush orders and blind shipments.
Does your metal distributor or metal service center offer you all this, plus on-time delivery and competitive prices?
See what an honest, hard-working metal distributor can do for you. Call or email us today.
REQUEST INFO
Value-Added Services
SPECIALIZING IN STAINLESS STEEL & BRONZE ALLOYS
HEAT TREATING

Precision Saw Cutting

Grinding

Polishing

Trepanning & Drilling

Rough Machining
Bar
Rounds
Half Rounds
Flats
Hex
Squares
Angle
Boat Shafting
Pump Shafting
Bearing Quality Shafting
Extruded Structural Shapes
Pipe
Welded A-312
As-Welded A-778
Seamless
All IPS Schedules
1/8" to 48" OD
Tubing
Heavy Wall
Thin Wall
Seamless
As Welded
Welded & Drawn
Instrumentation
Aircraft
Sanitary
Electro-Polished
Structural/Pipe Ornamental Tubing
Rectangular Tubing
Square Tubing
Round Tubing
Channel
Angles
Unequal Leg Angle
Mill Finish
Polished and Buffed
Special Items
Hollow Bar
Stainless Extrusions
Aluminium Extrusions
Specialty Alloy Extrusions
Centrifugal Cast Tubing
Specialty Forgings
Wire
Nickel Welding Wire
Cobalt Welding Wire