BRONZE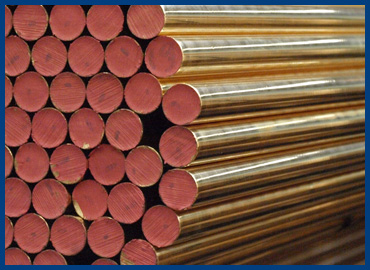 Bronze metal is available in a wide range of alloys for purposes varying from bearings to architecture and marine applications. In general bronze is a great choice for strength, corrosion resistance and electrical conductivity. Bronze is primarily an alloy of copper and tin, but can also be made with other additives, such as aluminum.
Our bronze materials are available in various shapes and alloys, which can be custom-cut in just the amount you need.
If you're having a hard time finding the metal you need, let us do the work for you. Hard-to-find alloys are our specialty. If we don't have the material in stock, we will search for it at over 45 different manufacturers and warehouses all over the U.S. who we network with. When we find it, be assured that you will receive a great price, delivered to your dock within days.
With access to large inventories across the U.S.A, Beartech Alloys is able to support the growing demands of its vast customer base from several different warehouses. We have shipping locations in California, Texas, Georgia, New Jersey, Chicago and Oregon.
Read more
What we offer
Aluminum Bronze C-624

Nickel Al Bronze C-630

High Silicon Bronze C-65510 Stainless Steel

Manganese Bronze C-675

High Leaded Tin Bronze SAE 660 C-932

High Leaded Tin Bronze C-936

Aluminum Bronze "9C" C-954

Aluminum Bronze C-955

Nickel Aluminum Bronze C-958
Profiles
Bar
Rounds
Half Rounds
Flats
Hex
Squares
Angle
Boat Shafting
Pump Shafting
Bearing Quality Shafting
Extruded Structural Shapes
Pipe
Welded A-312
As-Welded A-778
Seamless
All IPS Schedules
1/8" to 48" OD
Tubing
Heavy Wall
Thin Wall
Seamless
As Welded
Welded & Drawn
Instrumentation
Aircraft
Sanitary
Electro-Polished
Structural/Pipe Ornamental Tubing
Rectangular Tubing
Square Tubing
Round Tubing
Channel
Angles
Unequal Leg Angle
Mill Finish
Polished and Buffed
Special Items
Hollow Bar
Stainless Extrusions
Aluminium Extrusions
Specialty Alloy Extrusions
Centrifugal Cast Tubing
Specialty Forgings
Wire
Nickel Welding Wire
Cobalt Welding Wire