NICKEL ALLOYS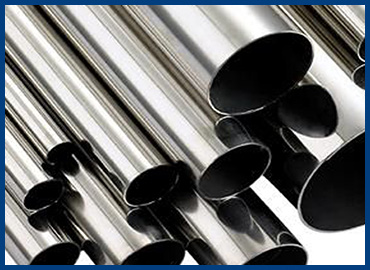 Nickel and nickel alloys are non-ferrous metals with high strength and toughness, excellent corrosion resistance, and superior elevated temperature properties. Pure nickel is a bright silver-white metallic element of the iron group and is hard, malleable, and ductile. Pure nickel itself is tough and corrosion resistant and provides an excellent base for developing specialized alloys.
There are three common types of nickel-based alloys which are formed for different applications.
Nickel chromium alloys are designed to resist failure from both oxidation and loss of strength at high temperatures. In some applications, where conditions are less demanding, some nickel is replaced with iron to decrease costs. Nickel alloys are not suitable for high temperature sulfur rich environments such as coal-burning plants. Other metals like molybdenum, iron, and aluminum are added in specific amounts for specialized applications.
Nickel copper alloys are particularly useful when magnetic permeability may be an issue. Although the introduction of copper results in lower tensile strength and ductility, the lack of magnetic properties make them an excellent choice for oncology systems, shielding electrical sensors in applications such as well logging, or rotating inertia members used near guidance systems.
Nickel iron alloys are used for controlled expansion since the combined thermal expansion coefficient of iron and nickel is relatively low and constant over a large range of temperatures. They are used in applications where mechanical properties must remain constant with temperature changes, such as in precision springs or glass seals.
If you're having a hard time finding the metal you need, let us do the work for you. Hard-to-find alloys are our specialty. If we don't have the material in stock, we will search for it at over 45 different manufacturers and warehouses all over the U.S. who we network with. When we find it, be assured that you will receive a great price, delivered to your dock within days.
With access to large inventories across the U.S.A, Beartech Alloys is able to support the growing demands of its vast customer base from several different warehouses. We have shipping locations in California, Texas, Georgia, New Jersey, Chicago and Oregon.
Read more
What we offer
Nickel 200

Monel 400

Monel K500

Inconel 600

Inconel 601

Inconel 625

Inconel 718

Incoloy 800/H/HT

Incoloy 825

Alloy A286

Hastelloy B2

Hastelloy C22

Hastelloy C276
Profiles
Bar
Rounds
Half Rounds
Flats
Hex
Squares
Angle
Boat Shafting
Pump Shafting
Bearing Quality Shafting
Extruded Structural Shapes
Pipe
Welded A-312
As-Welded A-778
Seamless
All IPS Schedules
1/8" to 48" OD
Tubing
Heavy Wall
Thin Wall
Seamless
As Welded
Welded & Drawn
Instrumentation
Aircraft
Sanitary
Electro-Polished
Structural/Pipe Ornamental Tubing
Rectangular Tubing
Square Tubing
Round Tubing
Channel
Angles
Unequal Leg Angle
Mill Finish
Polished and Buffed
Special Items
Hollow Bar
Stainless Extrusions
Aluminium Extrusions
Specialty Alloy Extrusions
Centrifugal Cast Tubing
Specialty Forgings
Wire
Nickel Welding Wire
Cobalt Welding Wire